Our Native Angus & Pedigrees
The Native Angus is a Scottish breed of moderate framed cattle. They derive from cattle native to the counties of Aberdeenshire and Angus in north-eastern Scotland. There are currently less than 200 breeding cows in the world that could be authenticated as true Native Scottish Native Angus. 
Lady Madeline Lava F31 (AAA 19549277) Was born of Kinsman embryos, she is a 'Dunlouise Kinsman' daughter, straight bred from pure 'Old World' Scottish Angus lines. She is the same restorative lineage presently promoted as 'Native Origin Angus' in Angus Scotland. Her Dam 'FV LADY MARY B101' (AAA 18429175) produced 72 embryos in only two flushes!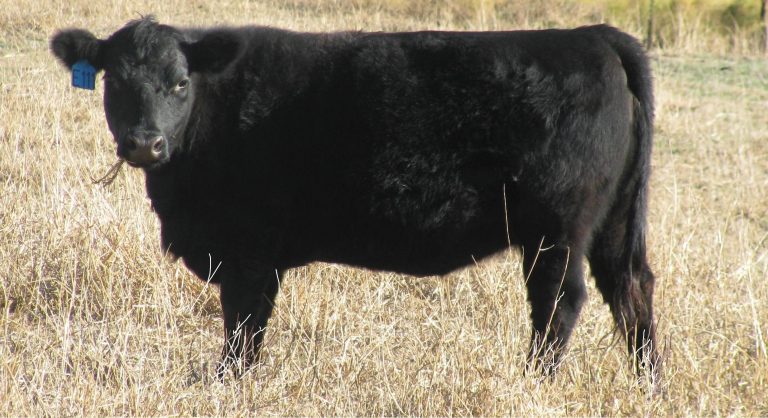 Lady Maria Lava E111 (AAA 19554728) Ruby is shown here at 24 mos old. She is a 'Roberto of Newcroft' daughter and the result of the 'last straw' of Roberto semen. She is straight bred from pure 'Old World' Scottish Angus lines. The same restorative lineage presently promoted as 'Native Origin Angus' in Angus Scotland. Ruby is bred with her first calf sired by 'Dunlouise Curve Bender S611'.
Tracking the Native Family Trees
Dunlouise

Jipsey Family
One of the best and rarest families in existence in the breed, the Jipsey family was founded in the Dunlouise program with the mother/daughter pair, Jipsey Nova of Cannahars and Cannahars Jipsey Yoko Y485 of the Perth Reserve Supreme Champion Betro of Classlochie. Linage can be traced back to Black Meg of Archibald Whyte in Forfashire, Scotland, predating 1862.
Dunlouise Erica Family
There are two amazing Erica families in the Dunlouise herd that trace to Ejeta of Templehouse and Eulimas, founded upon Elluma Nerissa of Cannahars. Both of which has produced some fantastic daughters. Family lines can be traced back to Beauty of Hugh Watson of Coupar-Angus, Scotland, predating 1852.
Dunlouise Cherry Blossom Family
The Cherry Blossom Family was established into the Dunlouise program with Cherry Bee W9 of Champagne and her daughters who are full sisters. This had a worldwide popularity more than half a century ago and is still holding strong. Champagne Cherry Bee A046 is the grandma of Dunlouise Cattle Baron who won popular acclaim while on display at the 2009 World Angus Forum. Tracing back to Lady Craigo of Mr. Carnegie in Angus, Scotland, predating 1857.
Dunlouise Ruby Family
This family is extremely rare in the Dunlouise program and stems from Ruby 5th of Newcroft who was acquired at 11 years of age to serve as a foundation donor. A daughter produced the Dunlouise herd sire Dunlouise Raider N504, and a granddaughter was the $20,000 top-selling female of the Dunlouise/Sinclair Herd Dispersal in 2012 to Woodstone Angus of Texas. Linage has been traced back to Old Favorite of Hugh Watson, of Coupar-Angus, Scotland, predating 1865.
Dunlouise Kindness Pride Family
It was from this family that the first female was selected to serve as the foundation for the Dunlouise programs in 1995. The female was Karen of Boghall and her son, Dunlouise Kinsman, is a very popular bull, of which semen has been sold through SEK Genetics. This family is also anchored by Eversfield Pumpkin F378. This family line has been followed back to Black Meg and Queen of Ardovie, of William Fullerton, from Angus, Scotland in 1836.
Lady Mary of the Manor Family
This family line was first introduced to America in 1988 by a farm in Texas. Prior to that, the Lady Mary Family has a rich history in Ireland, dating back to 1688! In 1883 Mr. Fletcher Moore began registering his herd in Vol. viii of the Herd Book with Elizabeth of the Manor 7407. This family line was founded at Manor Kilbride, in the County of Wicklow, Ireland.